Past Cosplay: June- October 2014
Character: Valeera Sanguinar from World of Warcraft & Hearthstone

Worn to: Comikaze 2014, Blizzcon 2014

I'd been wanting to make an armor cosplay, and at the time had been playing too much miracle rogue and loved Valeera's design. So here we ended up!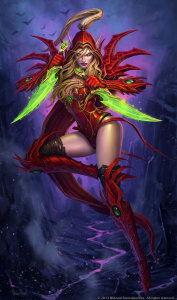 Wonderful spikes and all!
7-6-14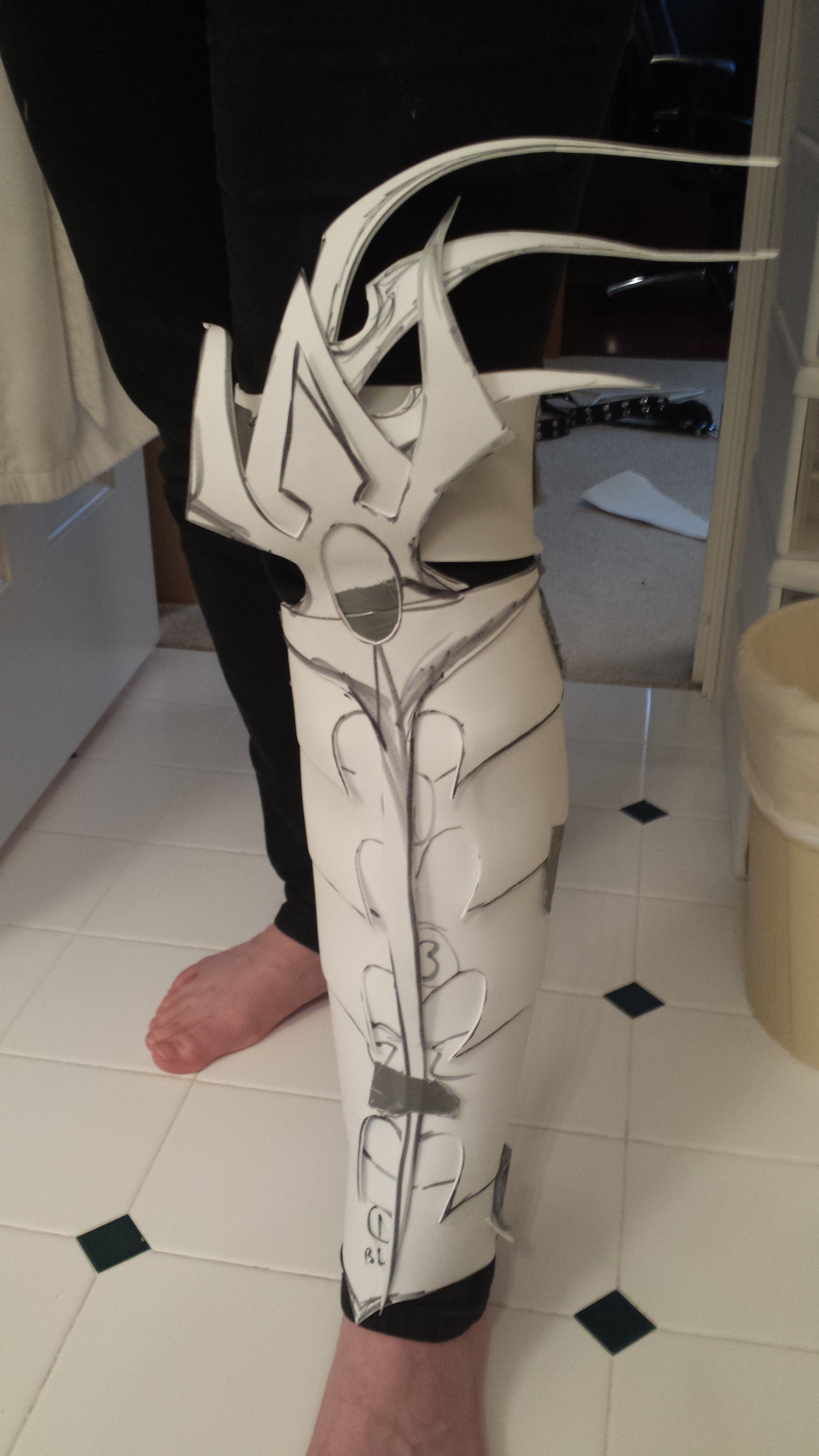 "Valeera foam progress.
Worbla should be here on monday… .Ordered it two and a half weeks ago, and I want it sooo badly."
I also started on the first dagger sculpt at this point, but it ended up warped and I had to redo it.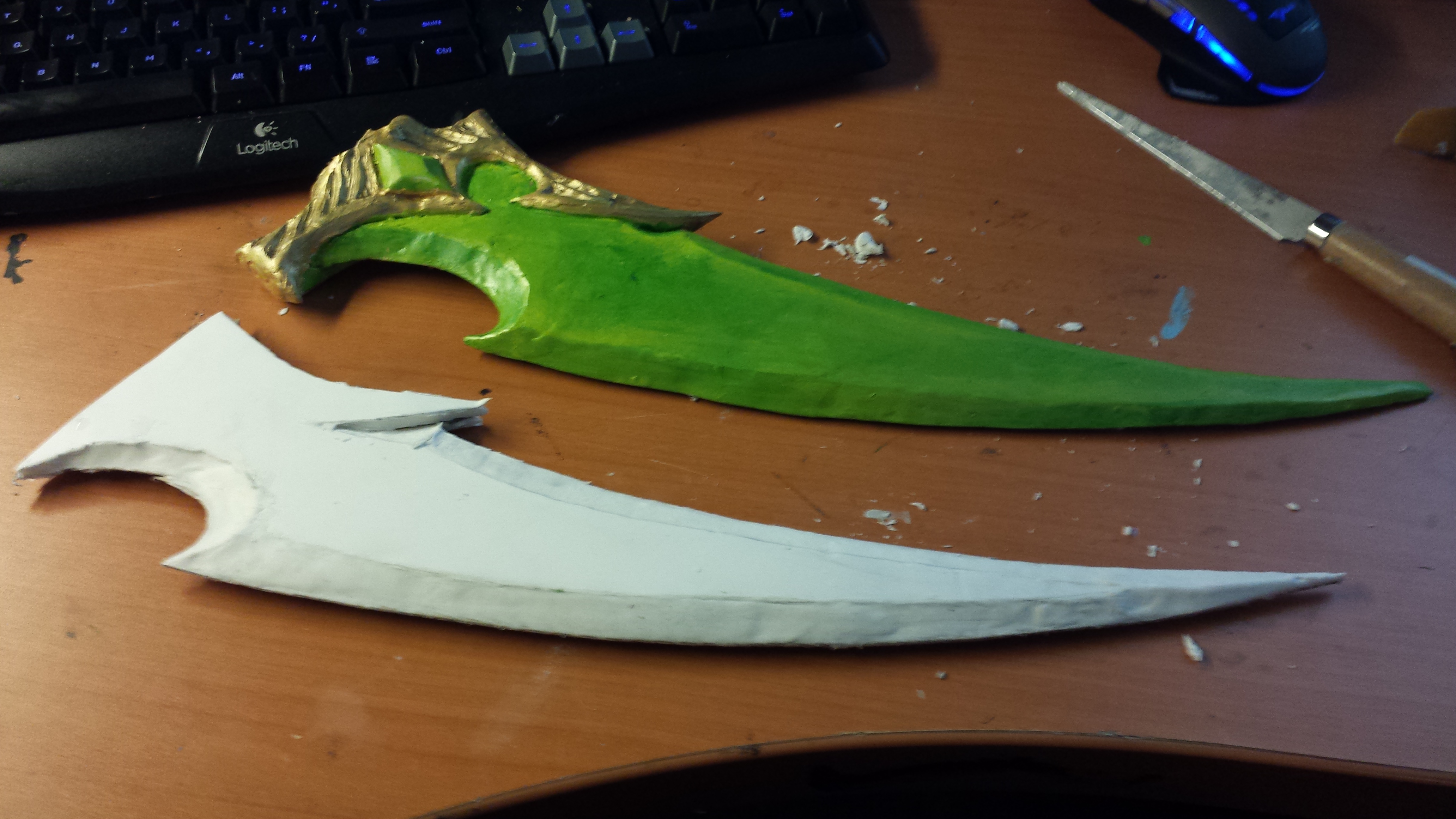 7-10-14
"Some worbla Valeera progress. 8-9ish hours work."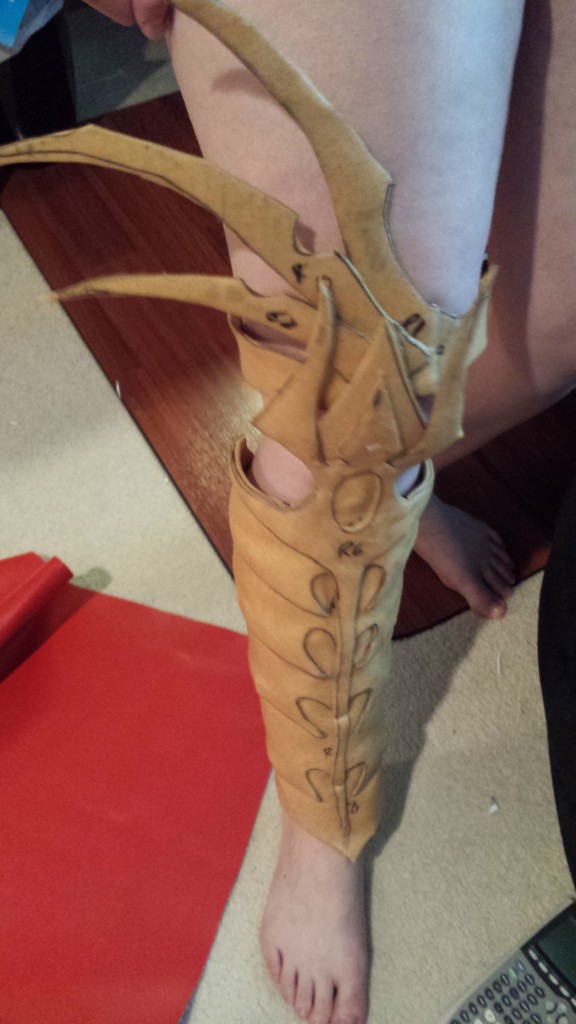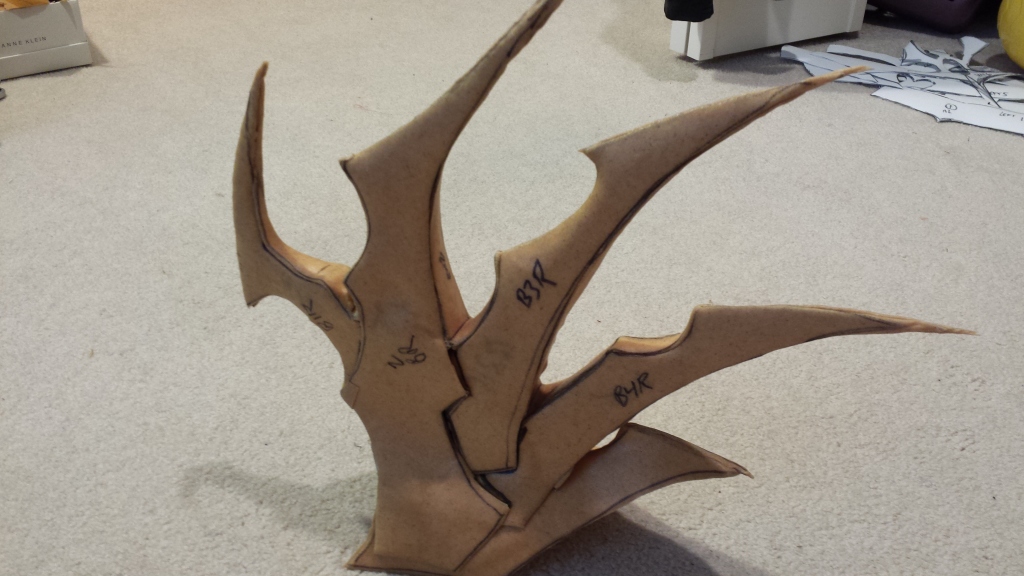 7-16-14
"Got the shoulders attached to the cloak. Going to work on the left leg today. Gogo worbla."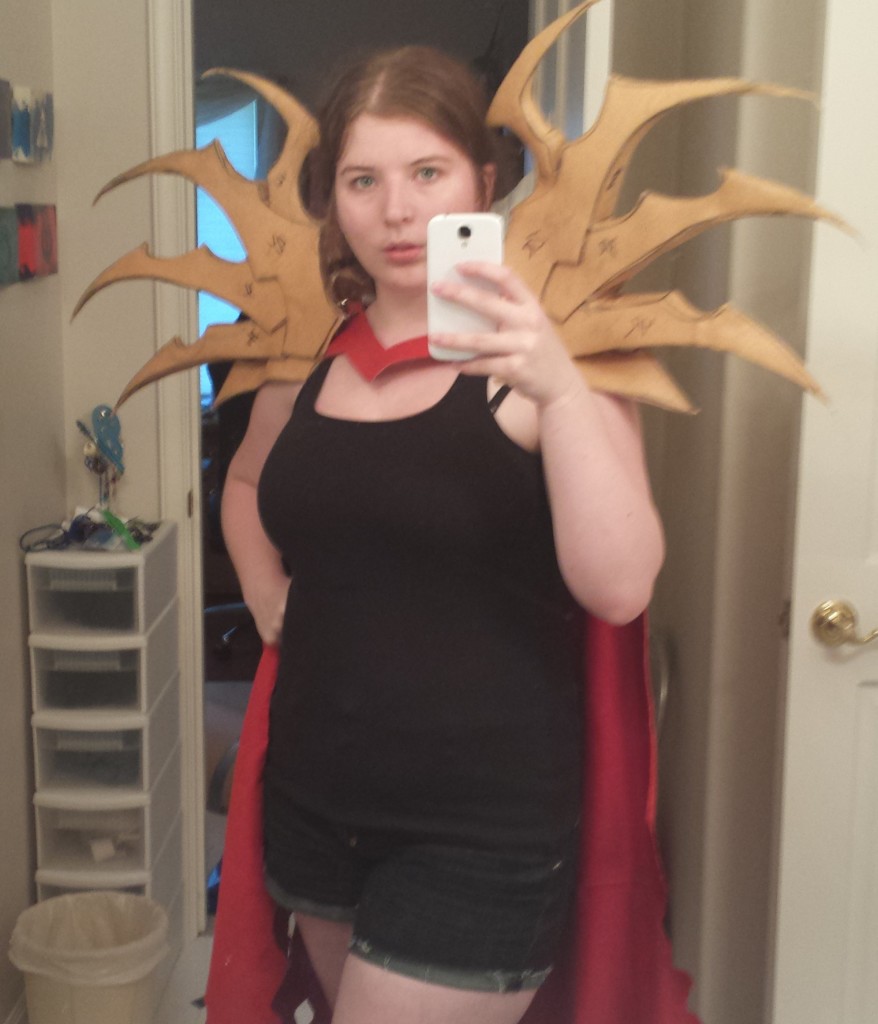 7-19-14
"Recent Valeera progress. Was unhappy with how my modified pre-bought corset was turning out, so I drew out what her bodysuit looks like so I can make one from scratch (sewing…. noooooo!). Finished the left leg's worbla (which looks a lot better than the right, but that's practice for you). Now working on attachment.
I was trying velcro and D Rings, but it was awkward, time consuming and an eyesore, so now I'm attempting to use red pleather and velcro underneath (like a corsets modesty panel but for greaves) that then I can attach fake buckles to to make it more accurate and less painful."
7-20-14
"Added the weird divets to the pauldrons, did some detail work on the greaves with apoxie sculpt, and made decorative buckles for the back of the greaves.
Still to do today: pattern/figure out Valeera's vambraces.
Things I reallllyyy don't want to do today: pattern/figure out Valeera's vambraces. "
7-21-14
"Ok. I finally patterned the vambraces. Now to cut out lots of little pieces.
Estimated time for basic worbla construction: 6-8 hours"
7-21-14
"5 hours later… cut out all the pieces, worbled (?) the craft foam, and finished assembling the left vambrace.
I feel like I'm going to trip and kill someone (or myself) on accident with all these spikes."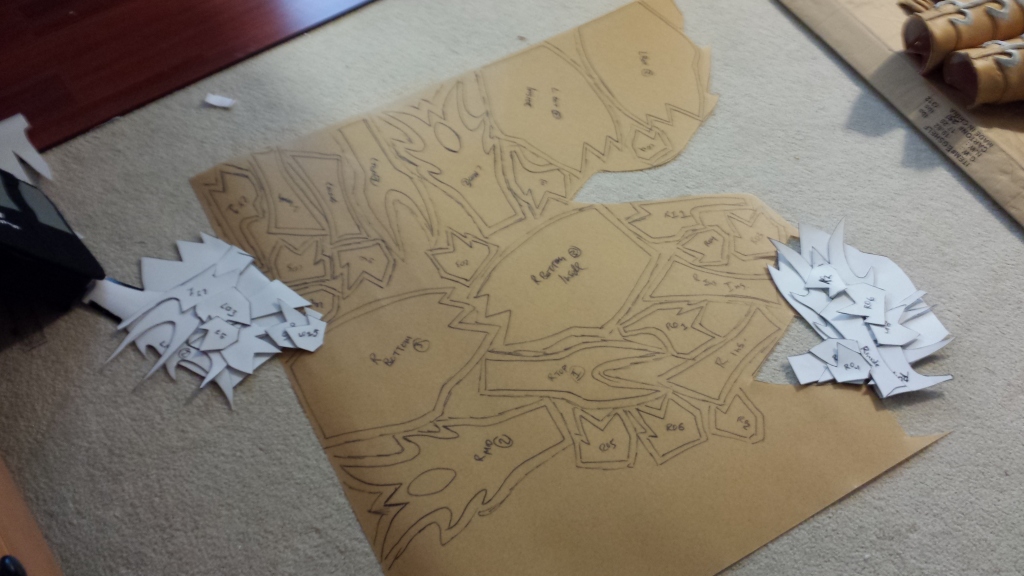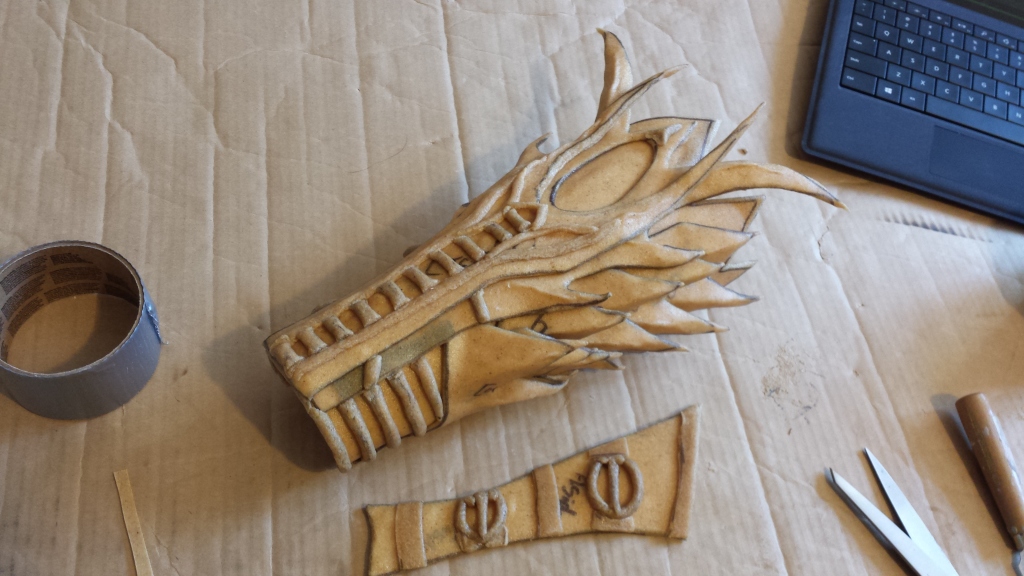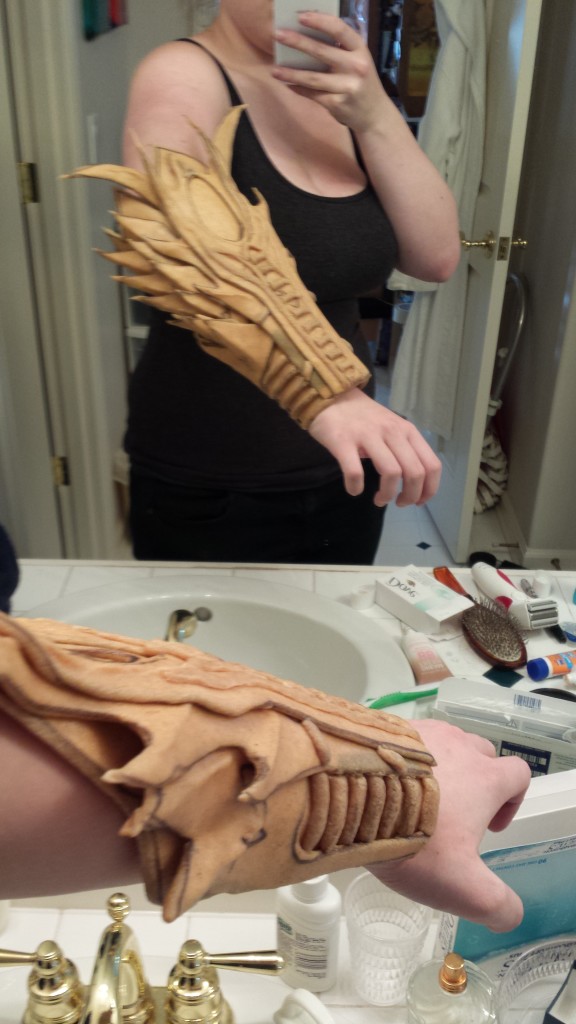 7-23-14
"I'm gonna cry. Blizzard sent me an email and apparently I'm not in the costume contest, I'm on a waiting list. People on the waiting list almost never get into the contest.
I signed up in the first two hours it was open and I thought because it hadn't closed that I was automatically in.
Help, I'm in shock. I wanted so badly to walk across that stage and show people my craftsmanship.
I need a hug.
In spite of the heart wrenching email I just got telling me I'm not actually in the contest, here were some progress pics I was about to post of Valeera. At least I'm done with worbla now. :("
7-26-14
"Working on my dagger sculpt. Should be done by tomorrow. In the meantime, my silicone and various resins (+LEDS +neon green UV resin powder) have arrived, so I started by making a mold of my simple one sided gems. (My first mold, yay). Next I get to cry and make 2 part molds for the pommel and blade of the daggers, and start pouring the resin for the simple gems.
Lots to do!"
7-26-14
"First forays into LED work for cosplay. Alligator clips everywhere! But seriously, use a breadboard, they make everything nice and neat.
Also casting my first gems specifically for this cosplay. Using Easycast with a neon green UV powder as the colouring. They look awesome even without the LEDs!
I'm excited!"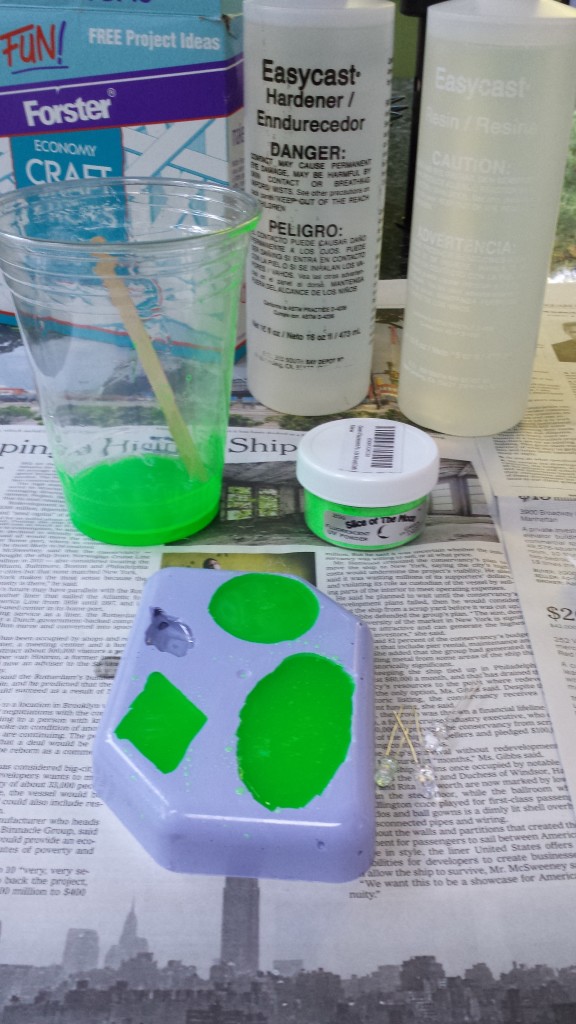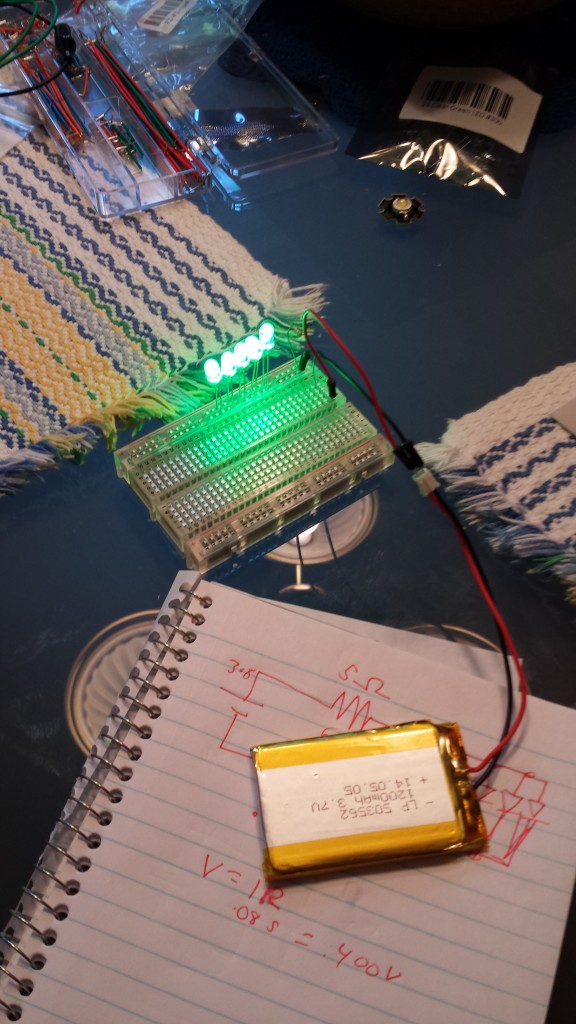 7-28-14
"Some work on the bodysuit. I'm modifying a red leotard, as my corset idea wasn't really working out well. So, I drew on the neckline with a chalk pencil, stitched over the chalk line, cut the unneeded stuff out (with a seam allowance), and top-stitched that.
Next I proceeded to make a huge mess by dremeling down some strips of 1/4 in black foam, then sealing it with glue and painting them gold. This got attached to myself with quick dry fabric glue (which surprisingly holds rather well).
All the while I'm coating my armour bits with gesso (3 coats so far!), and being unhappy with how my first resin batch went (it's hard to mix exact amounts in solo cups with no measuring lines, durr 😛 )."
8-4-14
"Valeera progress. Most of the painting is done, still some cleaning up and endless detail work to do. Have to figure out how to attach all of this stuff, finish the bodysuit and hood, and finish casting and writing my resin gems. And I didn't buy enough silicone for the molds, so I'm waiting on that to finish my dagger mold.
T-two weeks until I move to LA for college.
eep."
8-6-14
"More progress. Lots of painting and attaching. Still more details on the bodysuit to go. Put zippers on the back of my greaves, which works rather well. Figuring out how to attach the vambraces is currently a problem. Etc. I'm so ready for Valeera to be finished, I just want to be done. /sigh"
8-7-14
"Figured out how to attach my arms finally. Feeling awesome! I'm getting so close to finishing. 150ish hours on this costume so far."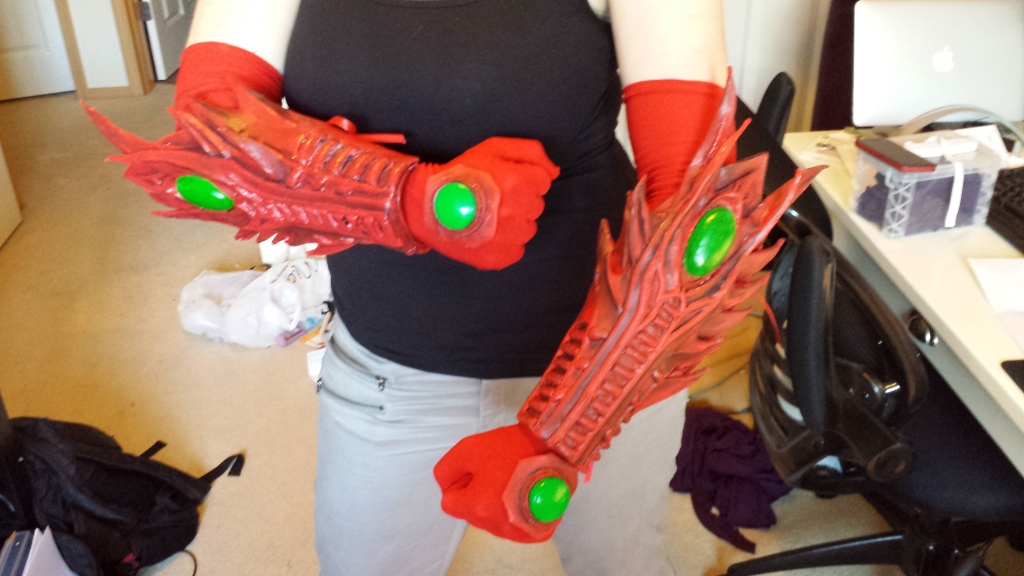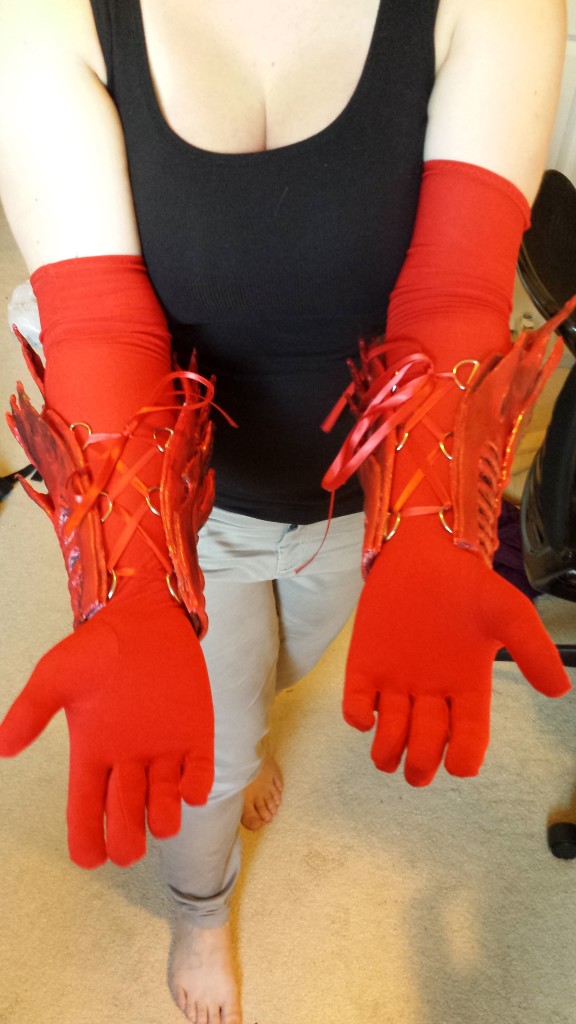 8-8-14
"Shoulders are all painted!"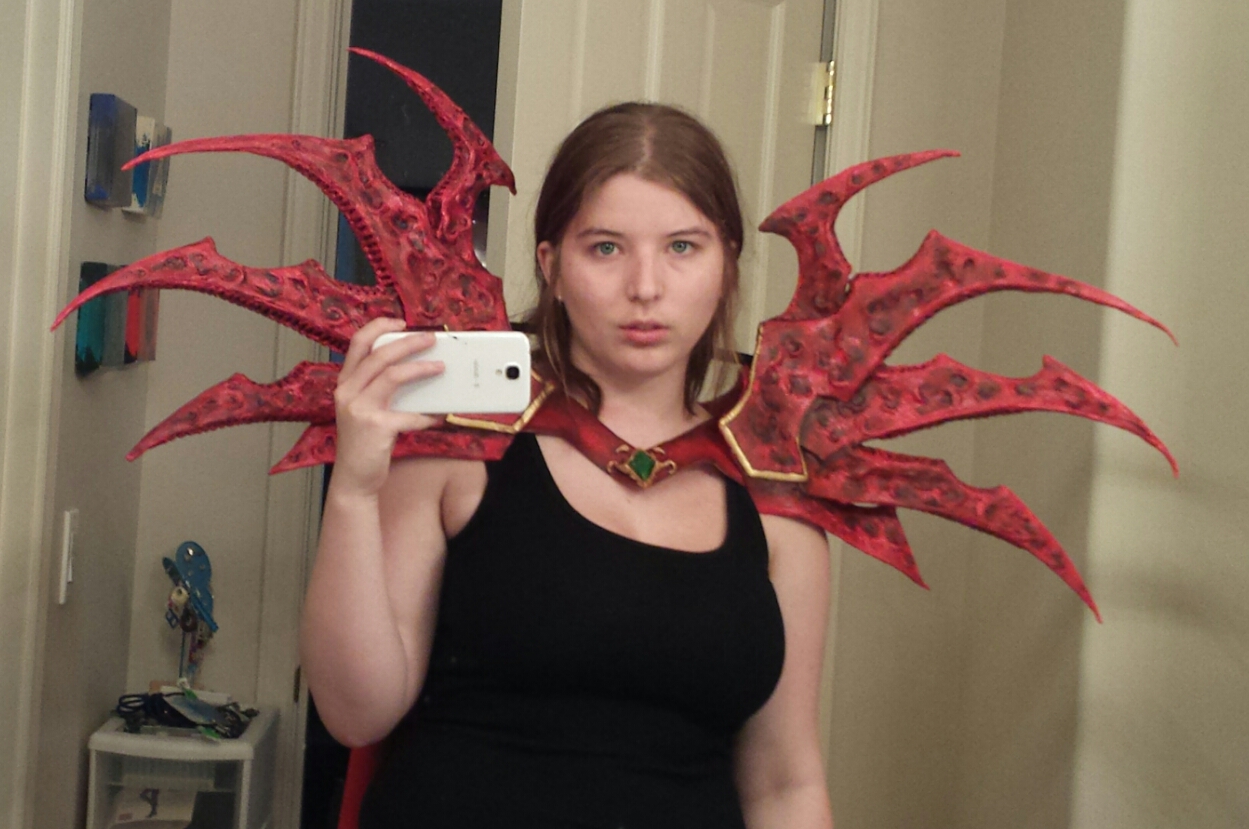 8-13-14
"Hood and shoulders (and ears!) done. The hood is made of layers of craft foam and painted. Ears are paperclay and glued onto the hood. Still need to add the ponytail, but I think I might want a new wig first. (Thinking the Luthien from Arda + ponytail clip in pale blond).
My only problem with the hood is that the shuffling of the foam against my shoulders makes it very hard to hear anything, ah well."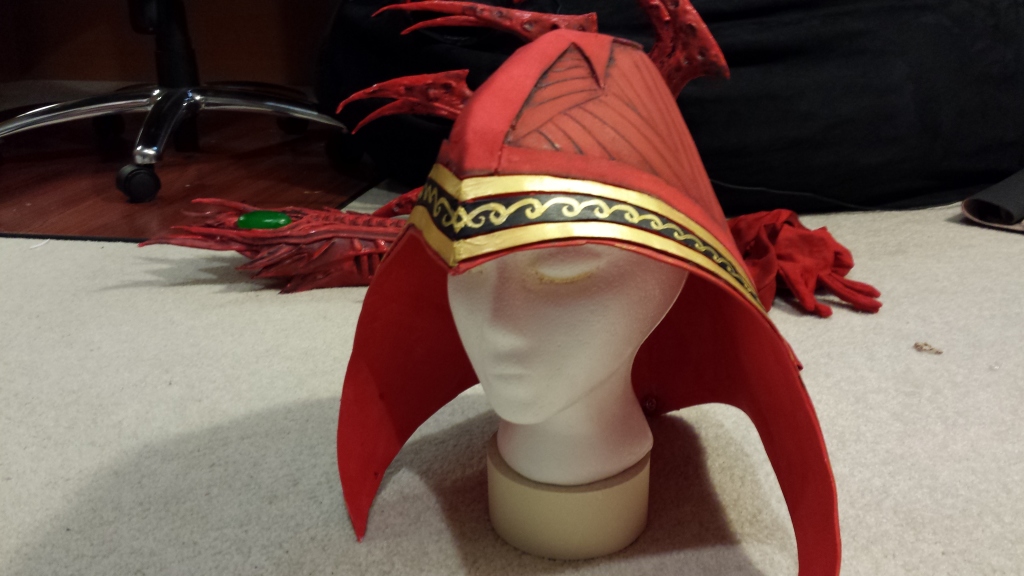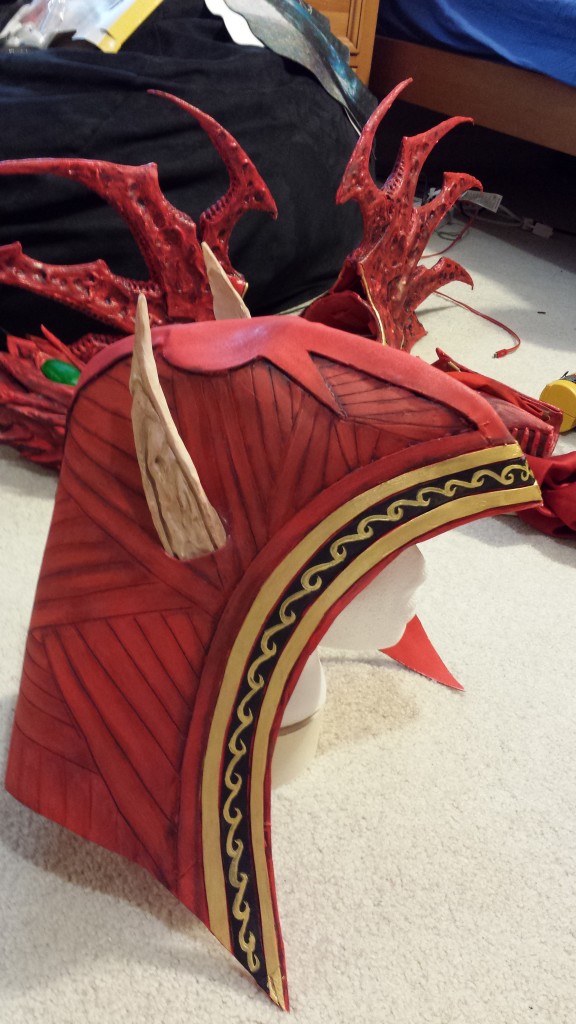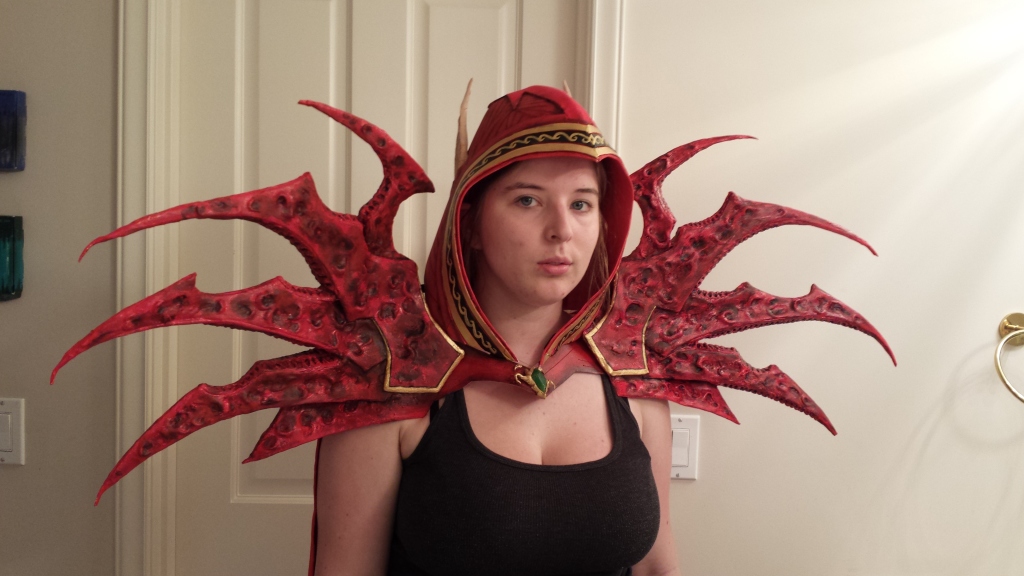 8-14-14
"Finished installing the LEDs in my vambraces and greaves, my camera can't really handle how bright they are, so they look white, but in reality they're very neon green. Still have to finish my dagger casts and wire them and the shoulders."
8-17-14
"Mold-making and casting progress. For my first time making a two part mold it turned out ok I guess. A bunch of detail was lost when the silicone got stuck in the carved out detail work on the guard, which is unfortunate. At least it's ok on the other side. Also, because I'm dumb, I didn't pour through the highest point, so part of the guard is missing, but I can add that back on with apoxie sculpt I guess. The first couple of tries the mold leaked, so I had a lot of slush to clean up, but I realized I didn't quite have the mold together properly, so hopefully I've fixed it for my latest cast.
I did a lot of dremeling to get the excess off (I don't recommend it. Smells horrible and makes a lot of really bad for you dust).
Unfortunately, I didn't anticipate quite how much light would get stopped by the pigment in the resin (neon green UV powder!), so even with an EXTREMELY bright 1 watt LED it barely lights up. 🙁
For my next cast I'm also adding a string of LEDs through the rest of the dagger to get it to light up uniformly (I hope).
The big problem is the fact that I'm moving to LA for college on monday and I'm running out of time extremely quickly, and resin can only cure so fast :/"
8-17-14
"My daggers are getting scabbards that will strap against my back so I don't have to carry them all the time (and I can play with the irl hearthstone cards I'm making. Still need a pouch for them though.)"
8-15-14
"Since I'm at college and the package with the rest of Valeera hasn't been shipped down yet, I decided to make a set of Hearthstone cards to go along with her costume (Miracle Rogue pre-Naxxrammas).
I cut front and back sides out of card stock and glued them together, and they turned out slightly bigger than Magic cards, which is pretty manageable. I also colored the white edges, and am working on making the goldenness shine with metallic paint (as I can't very well have them be holographic).'
9-7-14
"Oh, hey, my Valeera box got here (and my wig and ponytail clip too!) I added some poof to the ponytail with a wadded up ball of tissue painted gold, and still have to get some hairspray to keep it there, but that'll happen soon enough.
Aren't my wig and hood pretty on my wig head?
Also did a bunch of dremeling of my dagger blades today. I broke one but thankfully I had a few extra. I did some work on the pommels too, attaching one and adding the prongs back that got lost in the casting process because of bubbles. It still glows, yay!
I also roped my roommate into talking some pictures of me wearing my entire costume for the first time. Side note, I'm going to die if I wear this for any more than 6-8 hours. I didn't realize how heavy and hot something like this gets.
(Yes, all of the green gems glow, I just can't wire them up by myself, so you don't get to see them in this picture.)
246 hours down, many hours to go.
Almost there. ( I hope.)"
9-14-14
One dagger & sheath completely soldered, glued, and painted Kamui-style.
I might do some more handle wrapping, but it's hard because I need to be able to get into the secret door to switch it on and off and charge the battery.
9-23-14
"Valeera Makeup test – crazy long eyebrows (and contacts because I forgot to put them in first).
Super excited for Comikaze and Blizzcon!
10-4-14
"Valeera's 2nd dagger finished! I'm finally done.
Final total of hours in construction: 303 hours.
This has been the craziest project I've ever worked on, and I'm so excited to premier it on November 1st at Comikaze, and then again at Blizzcon on the 7th.
I'll be posting more pictures, so keep watching! Thanks for the support."
VALEERA: An Infographic

Valeera at Comikaze: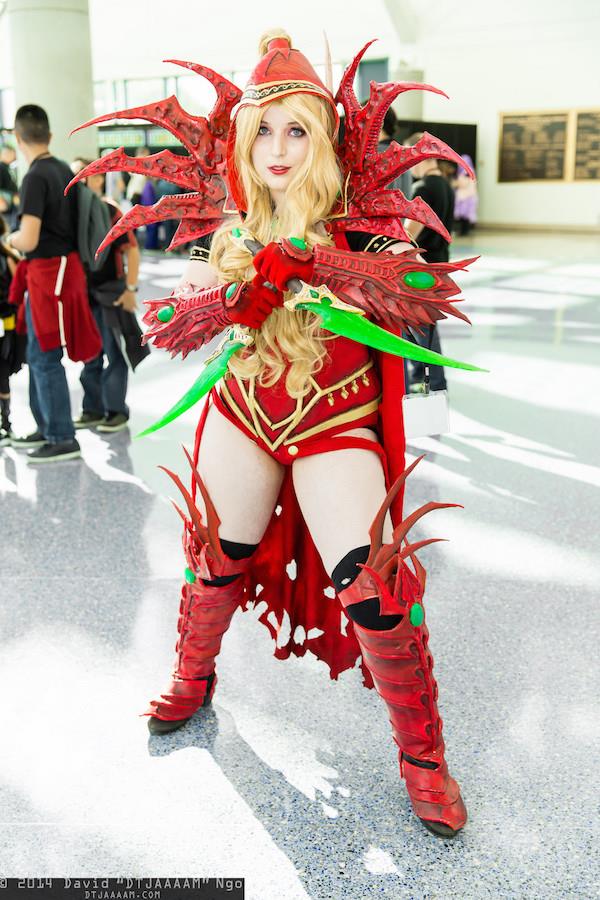 Valeera at Blizzcon: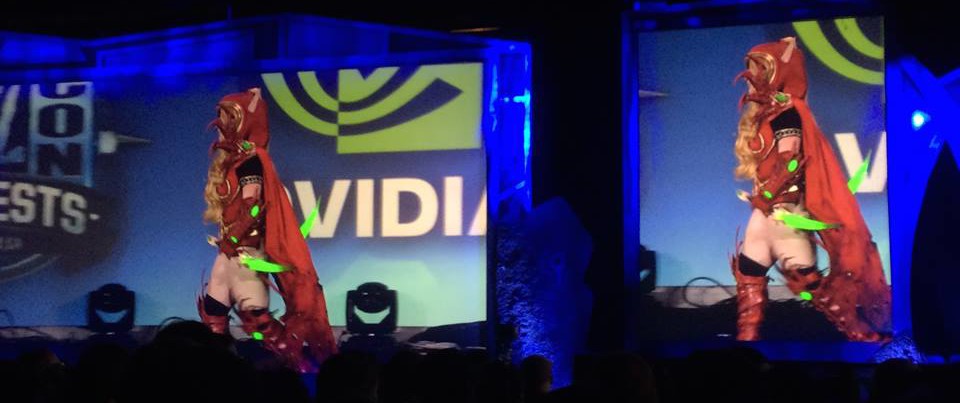 See more final Valeera photos here.